Ladybug is the name of our boat, and this site is all about the trials and tribulations of this crew as we try to make cruising into a lifestyle.
-Dave, Stacy, Laurie and Jo
Ladybug has been SOLD!!
---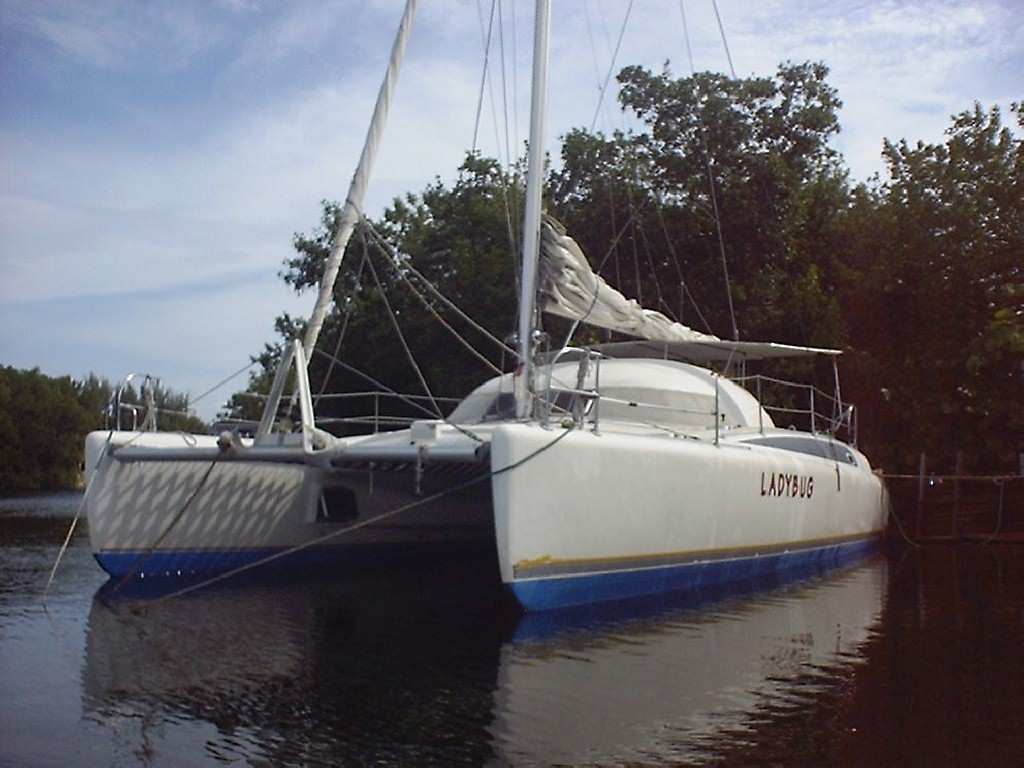 Feature Photo
Ladybug rests after 24,000 ocean miles
---
New News as of 6/22/2002
We had a good passage from the Virgin Islands, but there was some excitement. We ended up participating in a rescue operation, pulling 8 people off a sinking fishing boat.
Now we are in Key Largo, Florida. The boat is moored at the home of Jack Jelsema, the father of Dan Jelsema who we met in Brazil. We are working hard to get Ladybug ready for sale.
---
Older News as of 6/7/2002
It has been good to revisit the Virgin Islands where we purchased Ladybug and started our trip. Even better, it was most excellent and a huge honor to have our friends Dennis and Polly join us to get married on Ladybug (A Wedding to Remember!!). Everything went smoothly and they had a beautiful wedding.
Now it is time for us to head for Florida and sell Ladybug. It will be a sad day, but it's time for us to go back to work for a while. Hopefully we will find a new crew to continue the adventures.
Oh, one last thing. We know there are many people, most of whom we don't actually know, who have been following our adventures. You know all about us, but we are also curious about YOU. Please click here to register and let us know you are Watching Ladybug. ( I promise we won't sell your name to any phone companies or magazines.)
Current Update: 4/21/2003
Check out Stacy's photo on the Sailrite website: www.sailrite.com/PhotoGallery/photos12.htm
All is well in Wisconsin!! Dave and Stacy are expecting their new addition to the family late September. We are sooooo excited!!!
Previous Update: 01/10/2003
Previous Update: 6/22/2002
Update History (earlier updates)
---
s/v Ladybug
1991 37' Antigua - Fountaine Pajot